DC Solar fuse 10x85mm 1000V PV 15A 25A with fuse holder
Product Detail
Product Tags
Solar PV electricity generation system is formed by lots of PV connection in series,and they form PV array by parallel installation,meantime,the current generated by lots of PV array is concentrated in PV inverter from the PV junctions box,PV inverter turn DC to AC so as to connect with utility grid or to be used in home appliances.
This series fuse is suitable for solar pv power generation system, rated voltage to 1500V, rated current to 630A,used in pv power generation equipment as a pv module string and pv array for over current protection,and pv panels and batteries connected in series and parallel,to charge variable flow system for short circuit breaking protection,in pv station and inverter rectifier system for short-circuit breaking protection,as well as pv power eneration system,inrush and short circuit fault voltage for quick break protection,rated breaking capacity to 10-50KA,products confirms to IEC60629.1 and 60629.6.
The around temperature max value ca nup to 90℃,min limit value up to -40℃,the installation altitude is not over 2000m(our company can customize based on your special requirement.
"gPV" means the full range DC breaking protection on solar photovoltaic power generation system.
Fuse link is made of pure silver(or silver strings),welding low tin and encapsulated in the melt tbe made of high-strength porcelain, the fuse tube filled with high-purity quartz sand chemically processed as the arc medium.Fuse body is connected with contacting terminals by spot welding fuse base suppressed by the resin or plastic casing fitted with contacts and contains the fusion pieces,the connection made by riveting as the support of the appropriate size fuse body parts.This series fuse has a compact and convenient device,use security,beautiful appearance,etc.
| | |
| --- | --- |
| Type | GPV-32 |
| Fuse size1 | 10×85 |
| Poles | 1P |
| Rated voltage | DC 1000V 1500V |
| Rated current | 1,2,3,4,5,6,8,10,12,15,20,25,32 |
| Short-circuit breaking capacity | 33KA |
| Max power attenuation | 3.5W |
| Protection grade | IP20 |
| Connection | 2.5-10mm² |
| Operation ambient temperature | '-30~+70°C' |
| Resistance and damp hot | Class2 |
| Elevation | ≤2000 |
| Installation way | TH35-7.5/DIN35 Rail installation |
| RH(relative air humidity) | when +20 °C,not exceed 95%;when +40 °C,not exceed 50% |
| Pollution class | 3 |
| Installation environment | the place of no abvious vibrate & impact |
| Installation class | III |
| Size | W22 x H64x L134mm |
| Weight (kg) | 0.10 |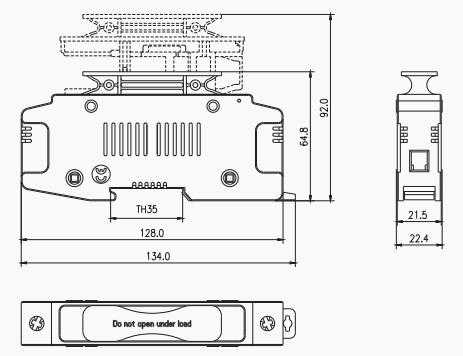 ---
---
Write your message here and send it to us